Just Released!  Bill High's excellent adventure book, now in electronic format!
Beneath the Sea is back and even has a few extra new stories.  Read about Bill's life in underwater habitats, meeting whales, counting fish and other wildlife encounters in Alaska and more.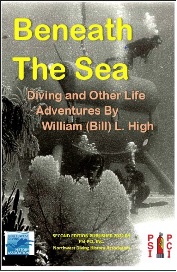 PSI-PCI and Northwest Diving History Association are proud to bring you this wonderful book in eformat.  Get your copy today!  
 Click HERE to reach the order page to download. 
(If the order page auto scrolls to bottom to sign up for newsletter, scroll back to the top to purchase the book)